IVF - Medically Assisted Procreation Centers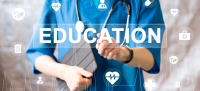 ICMED srl has developed an "ad hoc" path for the staff working in the Fertilization Centers, designed together with HQM Research Center Ltd., which is structured on two levels
Level 1: Qualification path of the Quality Manager in the Fertility Center

Level 2: Continuous training of the Quality Manager
In the first level, the figure of the Quality Manager is created in the PMA centers - HQM Research Center ltd. ™, providing all the information necessary to design and manage the quality system.
The second level, on the other hand, aims to guarantee continuous training for those who have been qualified, in order both to maintain the qualification as well as to guarantee continuous training.
In order to guarantee the maintenance of the qualification of Quality Manager in the PMA - HQM Research Center Ltd centers, it is necessary to have performed during the year at least 10 hours of quality training in medically assisted procreation centers or on the quality of the tissues, according to the following scheme:
6 hours of continuous training organized by "ICMED srl and HQM Research Center ltd. "

4 hours of continuous training which can be carried out either at ICMED-HQM Research Center Ltd, or at other organizations. During the 4 hours, participation in congresses and conferences are also recognized.
There are no events in the selected category