ICMED srl is a private company based in Italy born in 2017 that offers research, training and consultancy services for research centers, stem cell transplant programs, gene therapy centers, fertility centers and hospitals.
Thanks to the now twenty-year experience of its sole director Vincenzo Iaconianni, the leading international expert in the field of health accreditations, the company has gained a profound and unique knowledge in the development of organizational systems in the fields of cell and gene therapy, both in the hospital what a pharmaceutical.
In 2022 we became a provider (DI: 7158) recognized by Agenas (National Agency for Health Services) for the provision of training activities recognized as suitable for the assignment of training credits in the health sector.
Also in 2022 we officially became CRO (Contract Research Organisation).


Vision, Mission and Values ​​of ICMED Srl
Quality Means Simplicity: Helping healthcare workers simplify the management of quality and their business organization. We must be builders of "bridges" between health structures and organizations, in order to promote public health, through the sharing of experience, continuous training and scientific innovation.
to become the unchallenged leader in cell therapy, tissue and ATMP consulting, research and education. In particular, we want to represent the point of reference for consultancy activities of an organizational, training and research nature in cell, gene, transfusion and tissue therapy
INNOVATION - KNOWLEDGE INTERNATIONALITY - PROFESSIONAL ETHICS
The organizational structure of ICMED Srl


The Quality System of ICMED Srl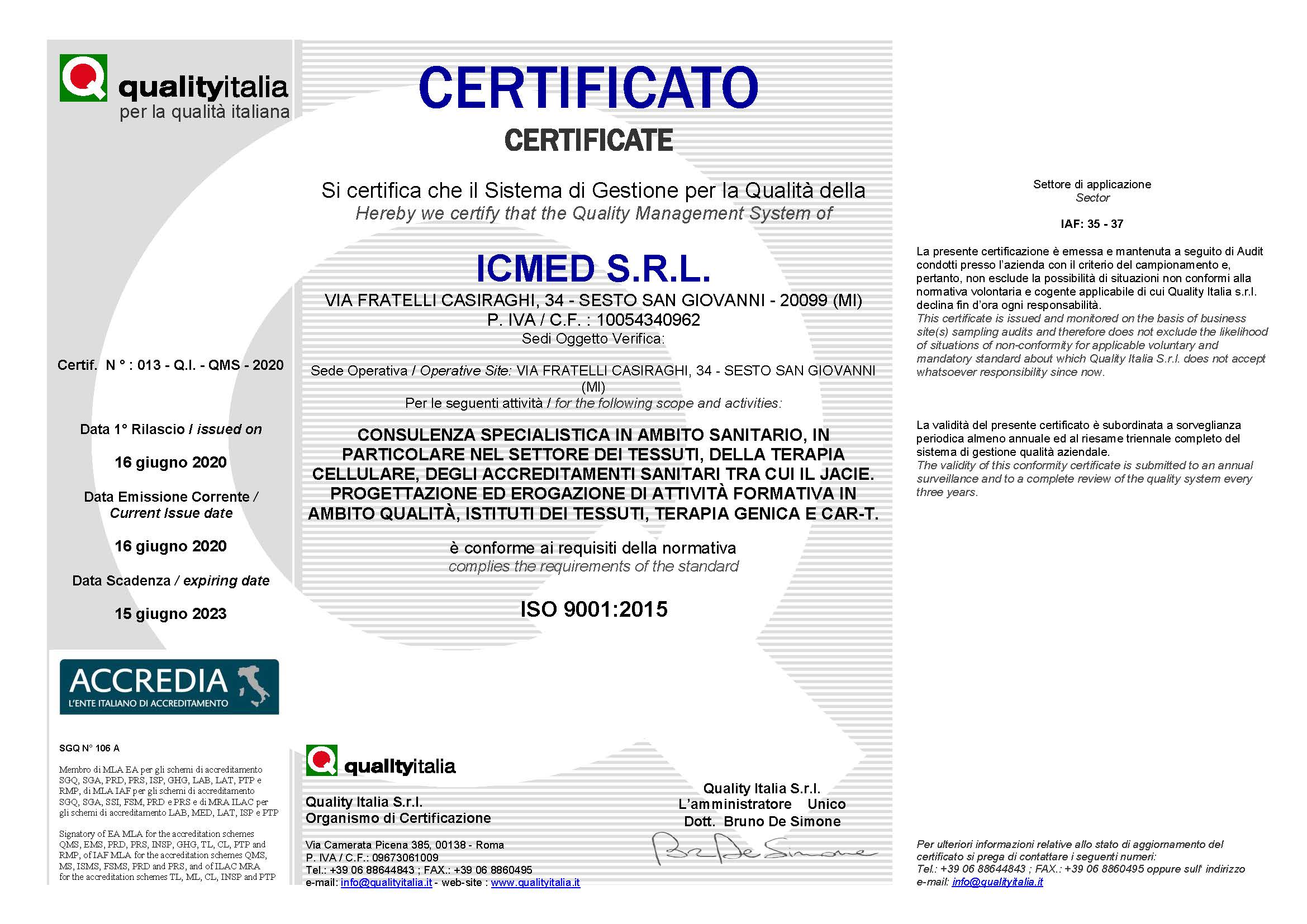 QUALITY SYSTEM'
In June 2022, ICMED Srl obtained the ISO 9001 certification of its quality system for specialist consultancy activities in the health sector and for the planning and provision of training activities.
Learn More
The Management of ICMED Srl is convinced that its Quality System is a fundamental tool for improving its business performance and for consolidating its image towards both public and private customers. Thanks to the implementation of its Quality System, compliant with the ISO 9001: 2015 standard, ICMED Srl wants to pursue the following general objectives: Carry out its consultancy activities in full compliance with ethical values ​​Ensure that the services offered to its customers are fully compliant with their needs and expectations Offer high quality services both in terms of achievement of objectives and in terms of efficiency and effectiveness Establish strategic and operational support for its customers capable of helping companies...
Read more